We welcome you to Trinity Lutheran Church in beautiful La Crosse Wisconsin.
We believe in family an is and sharing God's word.  We encourage you to visit us, join us and help us grow in his love.
Each day is a new beginning so begin your days as a member of Trinity Lutheran Church!
CARE TO JOIN US?  We are always looking to welcome new members to love God and serve our Community.  If you are interested in becoming a member of Trinity Lutheran Church in North La Crosse, please just call our office or call Sandy Thompson at 608-792-9339. Our Congregational Life team will be in touch with you to see what all we can do for you, and show you all the ways you can help us do for others.  There is an exciting future in store for Trinity and we invite you to be a part of it.  Love God, Love Our Neighbor, and Serve The World.  Join us as we take Jesus into the world around us.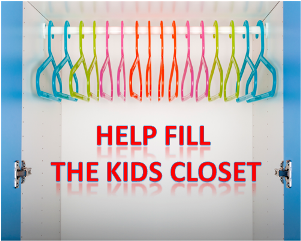 Help us continue
our missions!

REMEMBER THE PRAYER BASKET
Have you ever put a prayer in the prayer basket and wondered what happened to it?
Well let me tell you…..
People from the congregation take them out and use them in their daily prayers, the ladies from the Bible Study group take them and pray during their prayer time and at times they are taken out and read and
prayed for during the church service. They are being taken care of through prayer from your family in Christ.
Never stop putting your prayers in the prayer basket and Never Stop Believing in the Power of Prayer. God's Peace!
The Children's Clothes Closet
New & Improved Donation Drop-off
We now have an outdoor bin for easy clothing drop off! It's located by the door leading into the Education Wing, so you may drop children's clothing off into the blue bin at any time. Please use this for all donations. This will make it easy and convenient for you to drop off clothing and will make it easier for the Clothing Closet, too. We appreciate your willingness to share these clothes.
As we look ahead to Autumn, we thank God for the wonderful people who have been such excellent volunteers in the Closet!  They truly have served the children and been the hands and feet of Christ; however, we need YOU!  Please consider volunteering.  This service will bless you in ways you cannot imagine.
Please give this prayerful thought and then call Beverlie or Bill Schilla ( 780-8447 or 780-8443) so that we can place you on the Autumn calendar. May God bless you for your help.
SAVE THE DATE
BLOCK PARTY
Monday August 15!

Join us!

The Annual Northside Block Party will be held Monday, August 15th.  Please click here to view and sign up for available participation categories.  We welcome and thank you for your support and sharing your talents!
Now that a date has been set, lots of details will be determined and lots of volunteers needed to make this event a real blessing to the neighborhood.  We encourage every single person to participate in some small, (or large!), way.  We will hold our next planning event Thursday June 16th at 1636 Loomis St.  Please come!  Please support this event with your prayers, participation, and generous gifts.  Last year the party cost ~$5000. Those expenses are not part of our church budget, and last year were completely covered by generous gifts within the congregation and community.  We will be asking area business and churches to join us as we gather the Northside together and work to create a true sense of community…check your weekly bulletin for updates!
Any questions, please contact Stacey Feig at 651-373-1726 or cptmazda@hotmail.com