Welcome to Trinity Lutheran Church
Join us each and every Sunday!
ALL ARE WELCOME!

 Join us!

Saturday:  5:30 pm
Sunday: 8:30 AM and 10:30 am!
8:30 AM radio broadcast on WKTY 580 am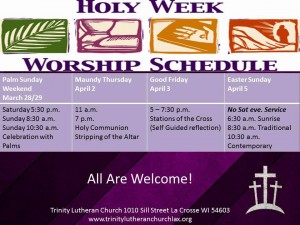 We Welcome you to the Trinity Lutheran Church Family!
Love God, Love our Neighbor, Serve the World
Lenten Worship Services are offered every Wednesday during Lent at 11:00am and 7:00pm. A lunch is offered after the 11:00 service, and before the evening service, starting at 5:30. (suggested donation of $5.)
FULL DETAILS
REMEMBER THE PRAYER BASKET
Have you ever put a prayer in the prayer basket and wondered what happened to it?
Well let me tell you…..
People from the congregation take them out and use them in their daily prayers, the ladies from the Bible Study group take them and pray during their prayer time and at times they are taken out and read and prayed for during the church service. They are being taken care of through prayer from your family in Christ.
Never stop putting your prayers in the prayer basket and Never Stop Believing in the Power of Prayer. God's Peace!
UP NEXT: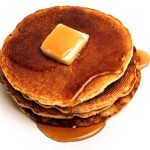 Palm Sunday Pancake Breakfast, March 29, 2015
IT'S FINALLY HERE!
The Palm Sunday pancake breakfast is this Sunday.  We will be serving from 7:30 – 11:30.  Please come down and join us.  The cost is $6.00 per person ages 13 and over, $4.00 for children ages 4–12 and free for children ages 3 and under.  Thank you for supporting our youth
__________________
View our Needs and Notes page!
__________________
Invite your friends to join Trinity!
__________________
It's always a good to get up with the Sunrise!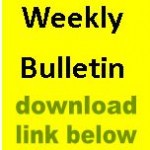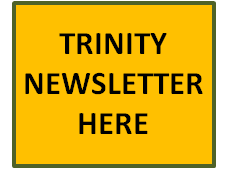 CURRENT NEWSLETTER
CLICK ABOVE
February Newsletter 8-1
We welcome you to Trinity Lutheran Church in beautiful La Crosse Wisconsin.
We believe in family an is and sharing God's word.  We encourage you to visit us, join us and help us grow in his love.
Each day is a new begining so begin your days as a member of Trinity Lutheran Church!
CARE TO JOIN US?  We are always looking to welcome new members to love God and serve our Community.  If you are interested in becoming a member of Trinity Lutheran Church in North La Crosse,  please just call our office or call Sandy Thompson at 608-792-9339.  Our Congregational Life team will be in touch with you to see what all we can do for you, and show you all the ways you can help us do for others.  There is an exciting future in store for Trinity and we invite you to be a part of it.  Love God, Love Our Neighbor, and Serve The World.  Join us as we take Jesus into the world around us.