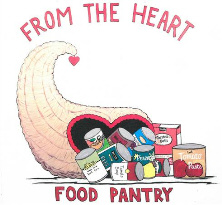 From the Heart Food Pantry
Do you know where the food goes that you place in the bin in the narthex? Every Monday night from 5:00-6:00 and also the last Saturday morning of the month, a group called From the Heart Food Pantry works out of Trinity's basement to help our neighbors. They offer food to anyone who may need it, including many who are out of work, and some whose paycheck just doesn't make it through the month. They have been helping 20-30 families each week and everything you donate is usually given to one of our neighbors before the week is over.
Matthew 25:35 For I was hungry and you gave me food.
Block Party
Each year our block party is a fabulous gathering of the neighborhood! Family photos, haircuts, yummy food, shoes, games, great music, and lots and lots of fun! Everyone pitches in and everyone has a good time! We thank you ALL for donating, working, visiting, praying, and being the church in action. We are called to love our neighbor, and we certainly have! We were call to let the children come, and we certainly have! God is good and being God's people is truly a blessing to us and the Northside! Looking forward to doing it all again next year!
Trinity Clothes Closets
Our clothes closets are separated into the Children's Clothes Closet (run by Trinity) and the Teen Clothes Closet (run by 1st Lutheran). Clothing may be picked up each Monday evening between 5pm and 6pm, or by appointment. Please contact us to ask for a time.
Monday Meals
Trinity hosts a meal for the community each Monday evening between 5pm and 6pm. A dozen groups volunteer from other congregations and local organizations, all of whom prepare, cook, and serve on a rotating basis. We are always looking for more volunteers. The meal is free to enjoy as we serve those in the community.