Missions
The Children's Clothes Closet
New & Improved Donation Drop-off
We now have an outdoor bin for easy clothing drop off! It's located by the door leading into the Education Wing, so you may drop children's clothing off into the blue bin at any time. Please use this for all donations. This will make it easy and convenient for you to drop off clothing and will make it easier for the Clothing Closet, too. We appreciate your willingness to share these clothes.

As we look ahead to Autumn, we thank God for the wonderful people who have been such excellent volunteers in the Closet!  They truly have served the children and been the hands and feet of Christ; however, we need YOU!  Please consider volunteering.  This service will bless you in ways you cannot imagine.
Please give this prayerful thought and then call Beverlie or Bill Schilla ( 780-8447 or 780-8443) so that we can place you on the Autumn calendar. May God bless you for your help.
Monday Meals
Trinity is the host location for Monday Meals.  Various community churches and organizations prepare the food for our guests. Join us Monday nights for this fellowship. Our number of guests continue to grow each week and we now server over 100 each Monday! Definitely God's work in action! 
Food Pantry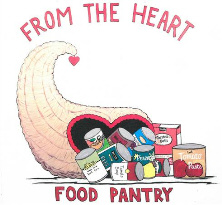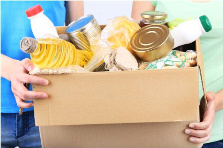 From the Heart Food Pantry
Do you know where the food goes that you place in the bin in the narthex? Every Monday night from 5:30-7:30 and also the last Saturday morning of the month, a group called From the Heart Food Pantry works out of Trinity's basement to help our neighbors. They offer food to anyone who may need it, including many who are out of work, and some whose paycheck just doesn't make it through the month. They have been helping 20-30 families each week and everything you donate is usually given to one of our neighbors before the week is over.
Matthew 25:35 For I was hungry and you gave me food.
Block Party
Each year our block party is a fabulous gathering of the neighborhood! Family photos, haircuts, yummy food, shoes, games, great music, and lots and lots of fun! Everyone pitches in and everyone has a good time! We thank you ALL for donating, working, visiting, praying, and being the church in action. We are called to love our neighbor, and we certainly have! We were call to let the children come, and we certainly have! God is good and being God's people is truly a blessing to us and the Northside! Looking forward to doing it all again next year!